Delve deep into the hidden world of sperm whales in this prototype exhibition from Phenomenal Viborg and Sci-Vi – Visualisation in Science Dissemination, in collaboration with one of the world's leading whale researchers.
KASKELOT is a mini-museum that showcases let's you explore knowledge about these beautiful creatures, and the important historical lessons they tell us about human interaction with nature and animal life.
Experience Together
This piece is an exploration of multi-user VR, so the ability to be in a shared virtual experience simultaneously. This gives a new dimension to the experience, and makes it more like being in a physical exhibition.
Museum-scale VR
This experience is taking place on a 250m2 area, making this a vast space for free exploration, larger than most other VR installations. Read More.
Easy to Use
No experience or special skills required: all you have to do is move around and explore. We don't use controllers or special interfaces, so anyone (ages 13 and up) can try the experience.
Media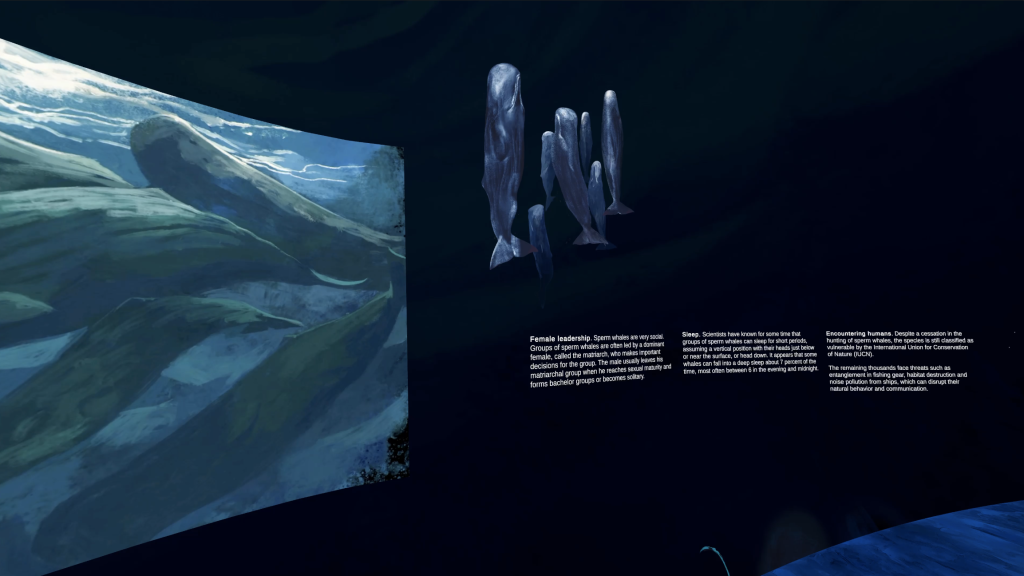 Credits
Cosimo Miorelli (Artwork)
Sia Søndergaard (Producer, Project Manager)
Peter Teglberg Madsen (Scientific Consultant)
Hannibal Glaser ( Programming, Design)
Produced by Sci Vi at The Animation Workshop/VIA UC with Phenomenal Viborg

Cover art by Cosimo Miorelli
Supported by
Viborg Visuals
Statens Kunstfond
Viborg Kommune
Den Jyske Kunstfond
Nykredits Fond
Fonden For Sparekassen I Skals
Viborg Innovationsfond
Viborg Kultur og Idrætsfond
Viborg Ingeniørerne
Galleri NB
The Animation Workshop – VIA University College
Xplor XR
Viborg Gymnasium