Cosmotorium: The Solar System
Phenomenal is developing Cosmotorium: The Solar System, a Multi-User virtual reality experience that takes visitors on a journey through our breathtaking solar system.
With Cosmotorium, the next generation of museums and science communicators can bring curious students and visitors into a living simulation of the solar system, allowing them to walk amongst the local cosmic bodies, including the planets, asteroids and the mighty Sun.
Realistic Simulation
In Cosmotorium, a realistic and correctly scaled simulation is fitted into a physical environment, giving the visitors an intuitive sense of the scale and scope of the solar system. The planets are scaled proportionally, moving in relation to each other in their elliptical orbits. Helpful graphics help the user grasp the scale and flow of time, and individual cosmic bodies can be scaled up for closer inspection.
Built for educators
With Cosmotorium, teachers around the world can play the role of The cosmic teacher, and invite their students to explore the solar system together. Cosmotorium has tools that allow a science communicator to control time, space and focus on specific events and phenomena in the simulation, in order to drive an educational narrative.
Educational institutions can book a classroom session in our Viborg showroom here.

Interested in bringing the power of social VR to your university or classroom? Contact Us.
Emotional and intuitive
In addition to being a useful tool, Cosmotorium should also be an emotionally engaging and exciting experience that stimulates the imagination of the visitor. We're drawing inspiration from fantastic documentaries and TV-shows wherein the cosmologists and science communicators walk amongst the stars with convincing special effects.
Powered by MUCO – Multi-User Co-Location Virtual Reality
Cosmotorium is a social experience. It uses MUCO, a hardware-software platform by Phenomenal that allows for simultaneous exploration of virtual worlds, together in the same physical space. MUCO allows visitors to walk around together in the virtual world, and the solar system can be synchronized so that everyone is seeing the same things at the same time. This allows for an experience that is similar to visiting a physical planetarium, from a user experience and ease-of-use perspective.
Experience Together
This piece is an exploration of multi-user VR, so the ability to be in a shared virtual experience simultaneously. This gives a new dimension to the experience, and makes it more like being in a physical exhibition.
Museum-scale VR
This experience is taking place on a 250m2 area, making this a vast space for free exploration, larger than most other VR installations.
Easy to Use
No experience or special skills required: all you have to do is move around and explore. We don't use controllers or special interfaces, so anyone (ages 13 and up) can try the experience.
Media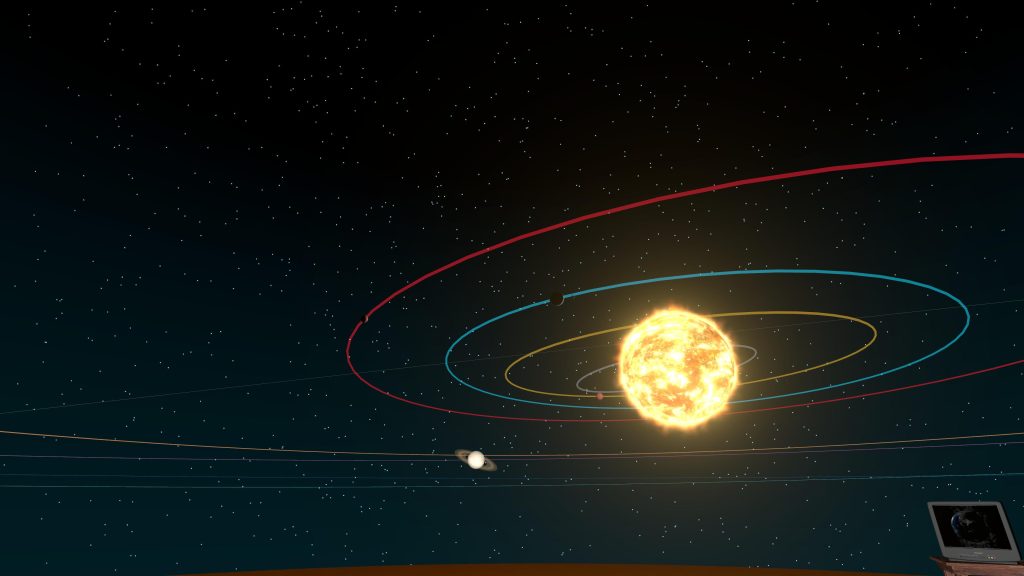 Credits

Jan-Marc Heckman (Programming, Sound)
Hannibal Glaser (Producer, Programming)
Produced by Phenomenal Viborg
Thanks To
Viborg Kommune
Supported by
Viborg Visuals
Statens Kunstfond
Viborg Kommune
Den Jyske Kunstfond
Nykredits Fond
Fonden For Sparekassen I Skals
Viborg Innovationsfond
Viborg Kultur og Idrætsfond
Viborg Ingeniørerne
Galleri NB
The Animation Workshop – VIA University College
Viborg Gymnasium